The road to virtual Boston, I guess
Posted on 8/4/2020
I was signed up this spring to run my fourth marathon in Boston. I ran a great half-marathon in Phoenix in January during my build-up, and everything was going great. Then, the Big 'Rona started to rain down on the world, far away at first but then closer and closer to home. I think I had accepted it sooner than most of my friends, but it still was not fun to hear that Boston was postponed. As weeks passed and the world shut down, I started to think that the race would eventually be completely canceled. There was no way an event that boasts about its 500,000 spectators and 35,000 participants from across the world could be safe before a vaccine, even if it was months away.
I was mostly right. Boston isn't canceled. It's now a virtual event, open only to those who were originally registered to run in April. For $50, I can run 26.2 miles wherever I am, upload my run to the Boston Marathon app, and get my t-shirt and medal. It's a much less romantic event, and I do feel quite ambivalent about receiving a Boston Marathon finisher medal without actually finishing the Boston Marathon. Everything about this event already has an asterisk though, so I figure I might as well just go for it.
The past few months have been light on aggressive training, and I feel like most runners I know are in the same kind of shape that I'm in - the "no races for a year" shape. Starting in the last week of April, I took three weeks off from running, and I don't think I've hit 70 miles or run every day for a week since then. I ran a mile time trial last week and struggled to a 4:42, which was kind of a wake-up call for me. I only have five weeks left, but starting yesterday, I decided I'm going to get fast again.
Without a race to travel to or a schedule to stick to, it's been too easy for me to sleep in on days where it's just a little bit harder to wake up, or skip weekend runs because it's too hot, or cut runs short because I'm a bit tired. To remedy this, I finally wrote myself a schedule. Normally I would use a pen and paper, but this time I tried out the Garmin Connect app. It's fine and basically does everything I want it to do, and I can select the day's workout on my watch to help keep me honest.
The schedule is an abbreviated version of how I would normally train for a marathon, leaning more towards quantity than quality. In the aforementioned half-marathon in Phoenix, I ran 67:33 on 110 miles a week with a fast-finish long run and either one or zero workouts per week. I haven't yet reached the point in my fitness where I have to do two or three hard efforts in a week to continue to improve.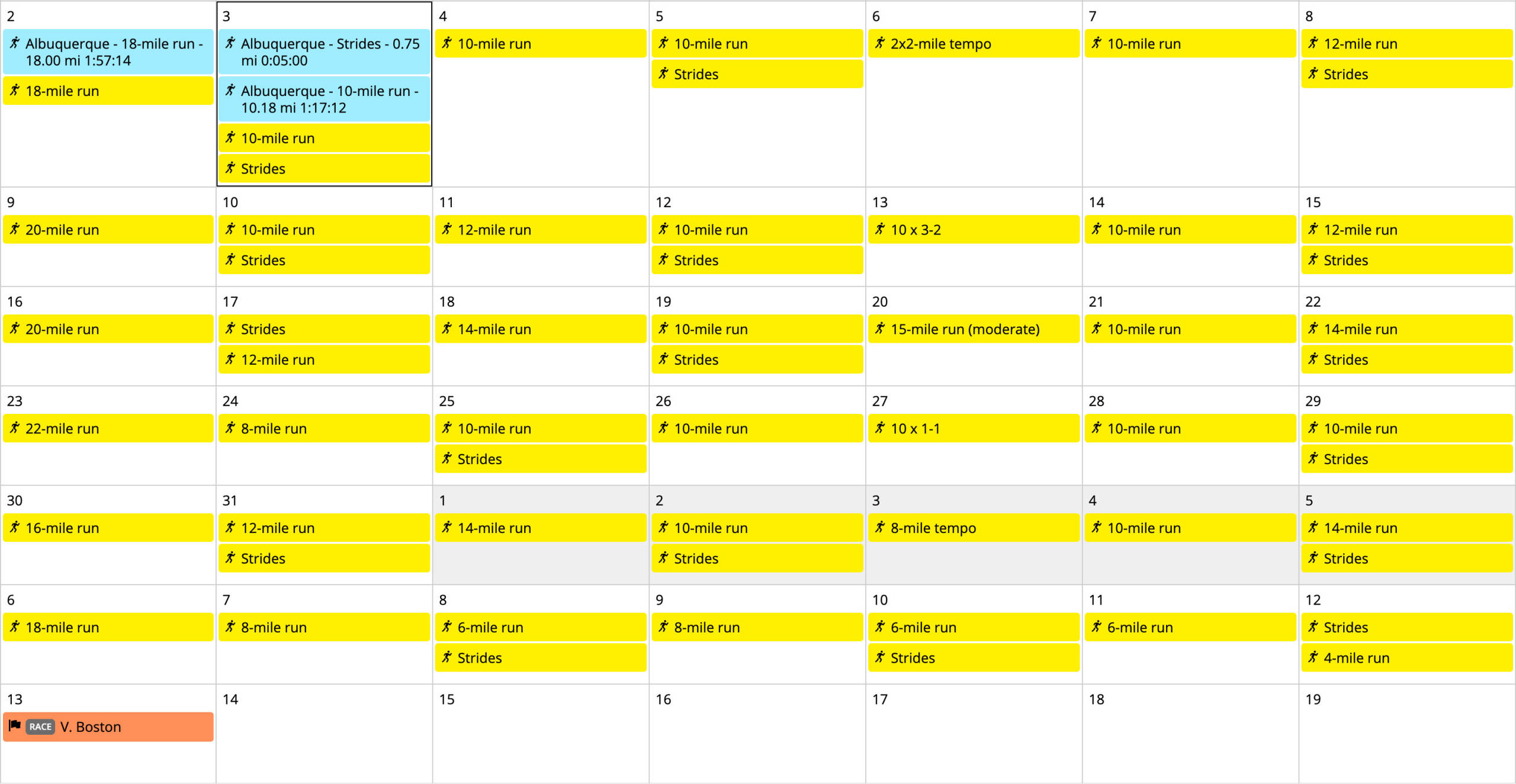 It's really too late for a proper training cycle, but I'm finally excited again about trying to be fast (thanks, Run With The Wind). I'll try to spend some time on a Strava or Garmin integration, so I can show my progress right here on the blog!