Virtual Boston Training - Weeks 3 & 4
Posted on 8/30/2020
Two more weeks of training have gone by, and two weeks remain until the big day. I'm pleased with the amount of progress I've made in such a short amount of time. At this point I think I've pretty handily surpassed 2018 Corey, who ran 2:34:15 in Philadelphia after a long break due to an IT band injury, but I'm pretty far behind 2019 Corey who ran 2:25:58 in a pretty solid race in Chicago. That's all right with me. 2019 Corey had a long build up and a good group to train with. I have neither of those things this year.

I would say the biggest week of my training was week 3 - 100 miles, a 15-mile moderate effort and a 22-mile long run. The whole week went off without any issues. I probably hadn't run 100 miles in a week since March or even February. The long run was zippy and tough, but definitely well within my fitness. I had a couple of faster miles left in the tank at the end of that one.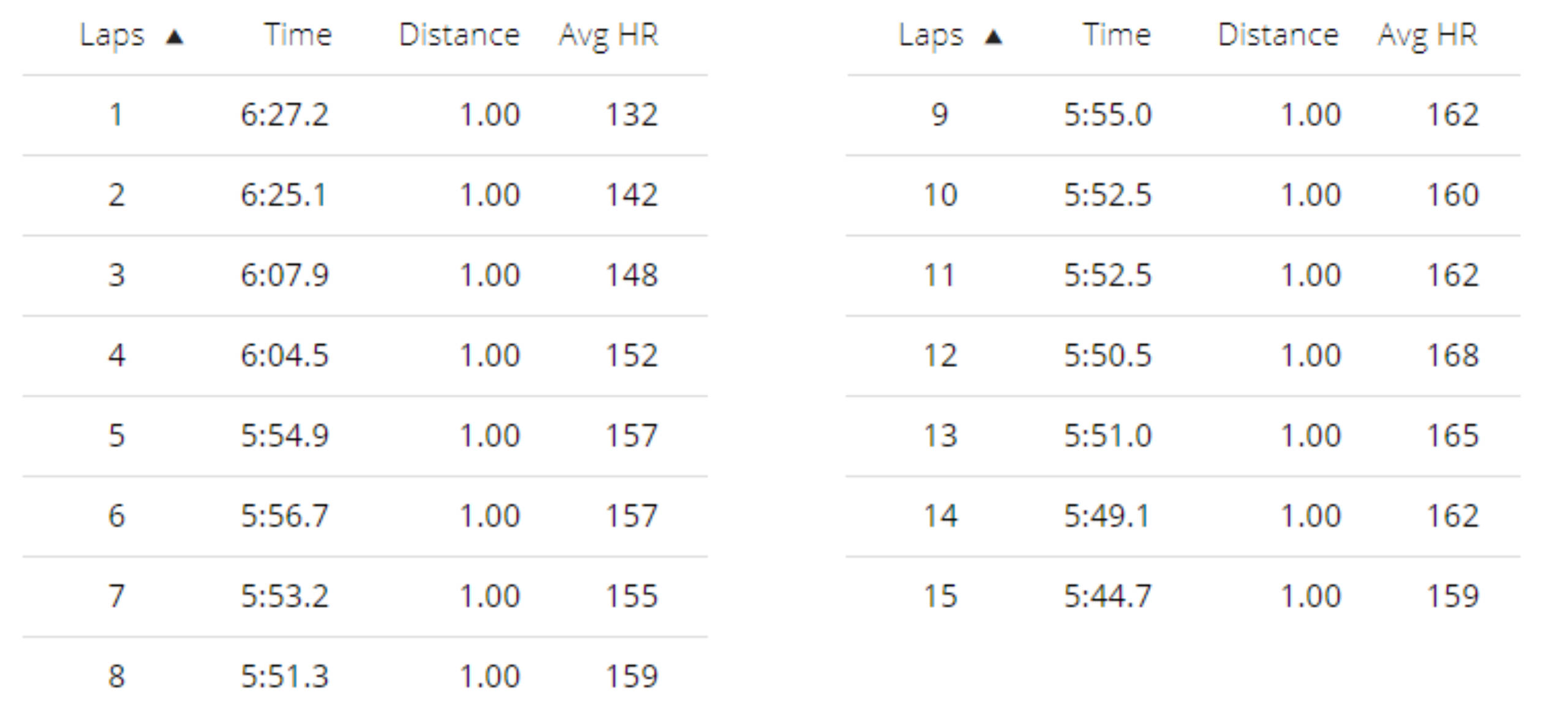 The real highlight of the week was still probably my 15-mile moderate run. Up until that very morning, the plan had been to average around 6:30 pace for the whole thing. I ran a 6:08 for my third mile, and just decided to roll with it. The whole thing just kept getting slightly faster from there, and I ended up averaging 5:58 per mile. That workout will give me a lot of confidence going into the real thing in two weeks.

Week four was really just a down week, which was very welcome. I ran 76 miles, and my only planned one easy workout. I shook things up a bit to accommodate an addition to the schedule though -- a mile time trial on Saturday (plus a 3-mile tempo). I ran a 4:39, which is one second faster than I ran off of no training a few months ago, and 4 seconds faster than I ran off of even less training last month. I'm not sure if that's a great sign or not, but I guess my increased mileage probably wouldn't increase my middle distance speed that immediately.
Mileage is back up next week, with an 8-mile tempo and an 18-mile long run because past Corey though that was a good idea!